Sea2SchoolAu – virtual ship tours!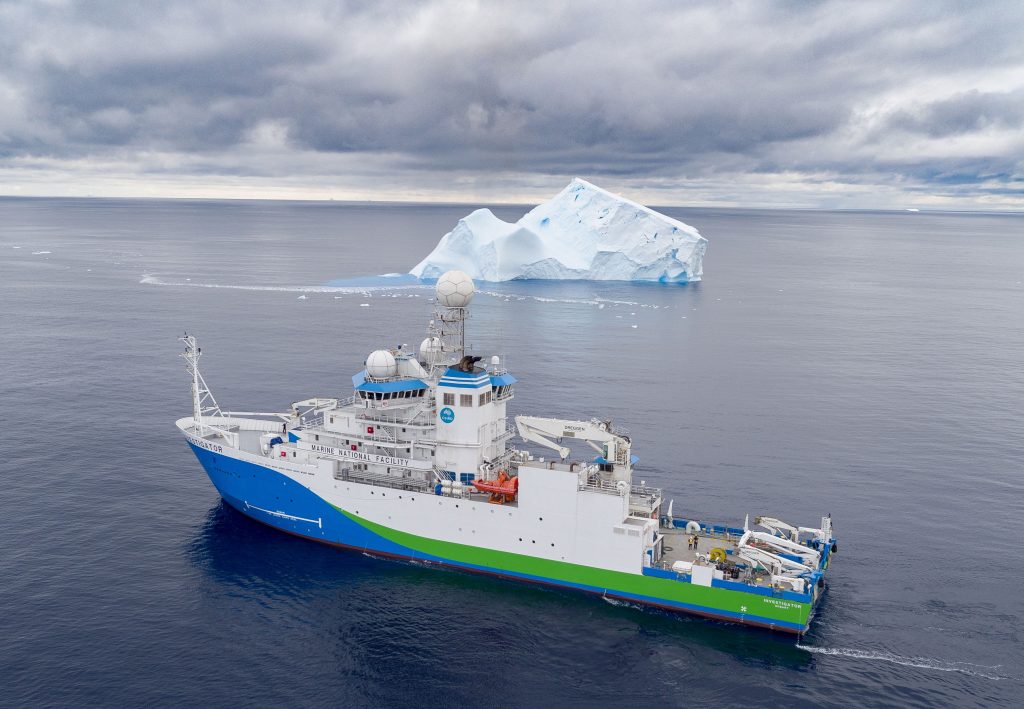 Have you or your kids ever wondered what scientists do on a research ship? Why is it important to study the oceans around Antarctica? Unfortunately we can't take you on the voyage or even a tour of the ship in person, but modern satellite and internet technology does allow us to do virtual tours of the ship and explain what we are doing and answer your questions.
We are lucky enough to have an educational specialist Joline Lalime on board with us who has set up the Sea2SchoolAu Education Program. This will deliver ship-to-shore virtual tours of the state of the art equipment on the CSIRO research vessel (RV) Investigator, as well as interviewing the researchers, technical team and the crew on board.
During the sessions we will be exploring topics such as connections between Antarctic and Australian ecosystems and ocean currents, oceanography, sedimentology, ecology and the impact of climate change on the oceans and Antarctica.
Teachers can book a time (30 minutes – 1 hour) on particular days throughout February to participate with their class in the outreach sessions. There will be different days for Primary and Secondary schools to provide the most appropriate level of information. There may be several classes on at the same time. We aim to showcase research relevant to the subject matter the students are studying, however, the research explored on the day will be dependent on what has been completed in days prior to the session, as well as the sea-state.
If you would like to join one of these virtual ship tours and onboard lessons then please get in touch with sea2schoolAU@gmail.com and provide the school and teacher name, class year, how many students, and date and time preference, and any particular topic you are interested in exploring.
RV Investigator uses WebEx to communicate during outreach experiences. Schools do not need to download any specialised program and a login code will be provided closer to the Outreach dates.
You can follow along during the voyage on Tik tok, Instagram, Facebook @sea2schoolAU and @CANYONS_voyage.
Sea2SchoolAU will also be creating resources aligning to the Australian Curriculum (e.g. oceanography; climate change; ecosystems), and a Women in STEM series. These resources will be available online after the expedition.
So join us for a virtual expedition to Antarctica on the RV Investigator. I hope you don't get sea sick and you are dressed nice and warm… it's pretty rough and chilly down here!